THE REAL ESTATE MARKET IS SHIFTING
HERE ARE SOME TIPS AND WHY THIS ISN'T A "BAD THING"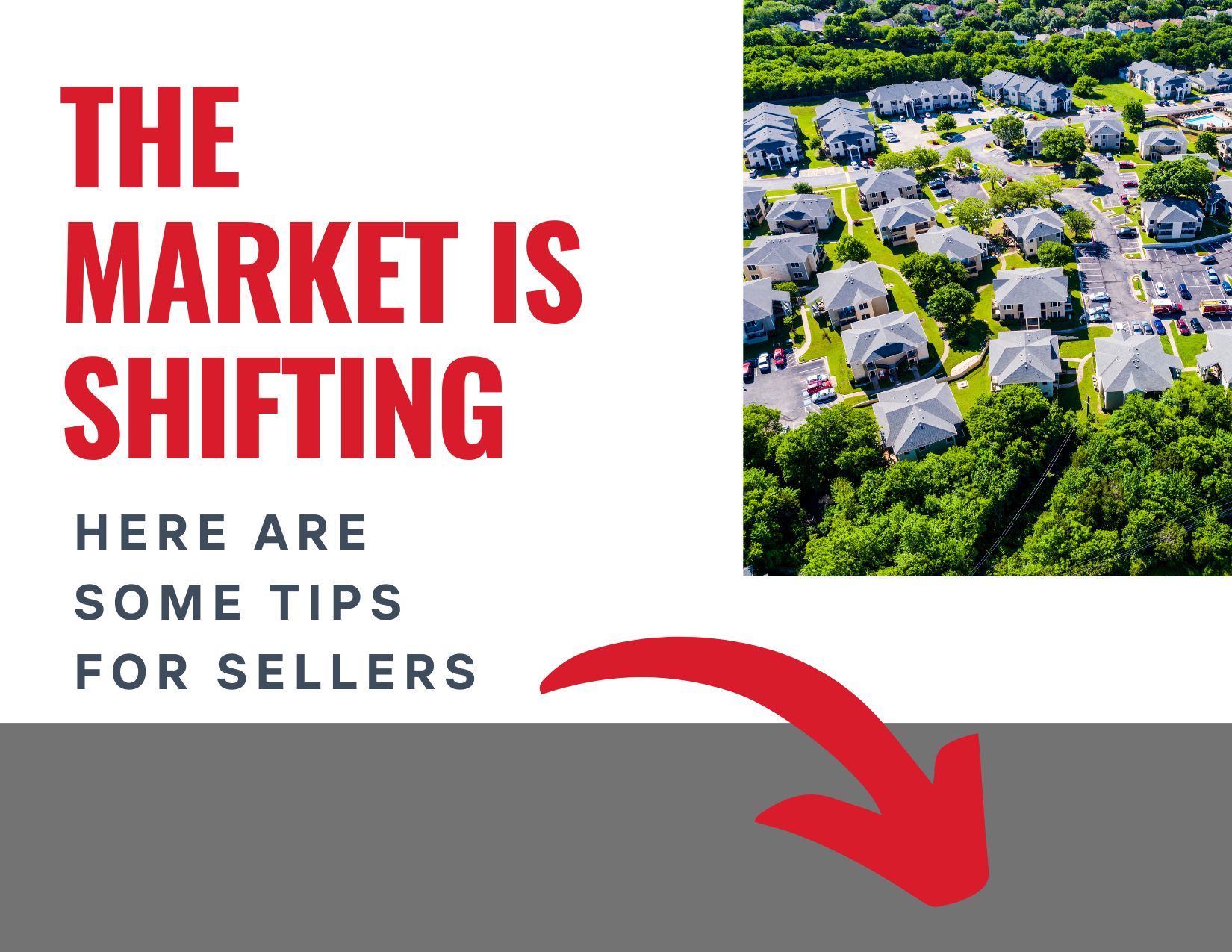 SELLER TIPS:
1. Don't overprice your house. This may mean that your neighor put their home on the market and "market value" aka what the comparables suggested 6 months ago and they got $50k over asking.....and you likely will not get that, however, this does not mean values are dropping drastically or that the market will crash like 2008. It just means that when there is a shortage of things, people are willing to pay a premium and when there is not a shortage, they are willing to pay a "market value" for it.
2. Clean, Stage, declutter and get your home ready to show in it's perfect conditions. Six months ago you could have sold a dirty and over crowded home with stinky pets and laundry on the floor, however, in the current market.....I suggest you prepare it to show in it's best light for the buyers.
3. Avoid the I-buyer corporate companies like Offerpad, Zillow, etc. These companies are not going to be willing to actually pay you today's "market value". They are buying homes to grab, steal, aquire some of YOUR equity AND they want to charge you commission. Please don't fall for this type of structure. You deserve to keep all of your equity minus a professional fee to assist you.
4. Open houses work. We hold open houses on our listings the weekend they go on the market. This allows us to show your home perfectly cleaned, items put away, soft scented candles, and light music if possible. There are many reasons why this is more efficient for the buyer and seller. As a seller when your house goes on the market you may get 3-4 random requests for showings in that first 48 hours. Holding the open house for our sellers and holding all showings until that open house allows us to get those 3-4 buyers as well as all the other buyers who are interested into your home during a 2-4 hour period and it eliminates you being interrupted multiple times during that week for those random showings. This also allows us to have conversations with your potential buyers and get candid feedback about their thoughts. How do they think it shows, what do they think about the price, etc.
5. A SHIFT IS NOT ALWAYS A BAD THING. Yes, you may not get a premium in today's market (August 2022), however, you also will not have to pay a premium for your next home and buying during a normal market is much easier than a crazy market where all homes have 7-10 offers. Typically, a balanced (although it is still very much a seller's market) market is easier for all involved.
One last thing, after 16 years in the business I do not think that interest rates will dip again like they did. In fact, I believe they will continue to climb. Therefore, if you are considering a purchase.....I HIGHLY SUGGEST you take advantage of the slower market we are experiencing right now. I also do not think the real estate market will "crash" so finding those foreclosure deals 6 months from now may be harder than you think. TWO other things to consider, this may be the one time in two years where you will find seller's negotiating to get their homes sold AND there are some amazing builder deals out there right now and I think they will get better in the fourth quarter of 2022.
Would you like more information on selling your home or would you like to find out more about some of the builder deals we are seeing in the market? Let's talk.
Reach Out Today For More Information