MUNICIPAL UTILITY DISTRICTS
WHAT IS A MUNICIPAL UTILITY DISTRICT?
A Municipal Utility District (MUD) is one of several types of special districts that function as independent, limited governments. The purpose of a MUD is to provide a developer an alternate way to finance infrastructure, such as water, sewer, drainage, and road facilities. READ MORE HERE
CHANGES TO NOTIFYING A BUYER THAT A HOME IS IN A MUNICIPAL UTILITY DISTRICT (EFFECTIVE JUNE 2023)
The Texas Legislature recently passed a series of laws, HB2815 and HB2816, changing the utility district or "MUD" notice of information process. The legal notice provisions used in form HAR 400 (the prior way that Realtors used to give notice of a MUD District) have been deleted by the recent legislation and are no longer the law. As those laws passed with a two-thirds majority, the changes went into effect immediately, June 18, 2023. READ MORE HERE
WHAT DOES THIS MEAN FOR THE REALTOR?
On behalf of our seller clients, the listing agent will be tasked with obtaining a completed notice directly from the district. Seller's obligation to deliver notice to the buyer can be found in paragraph 6.E.(3) and (11) or (12) in the TREC form sale contracts. Failure to timely obtain buyer's signature prior to execution of the final purchase contract will allow the buyer to terminate the contract unless the notice is signed at or before closing (if closed it is presumed the buyer waived its right to terminate). You should be able to find these documents via these sources:
A basic google search of the MUD District Name - If the "NOTICE TO PURCHASER" is not on the website, call them to get a copy. The MUD district information can be found in the tax record breakdown of a property. Example....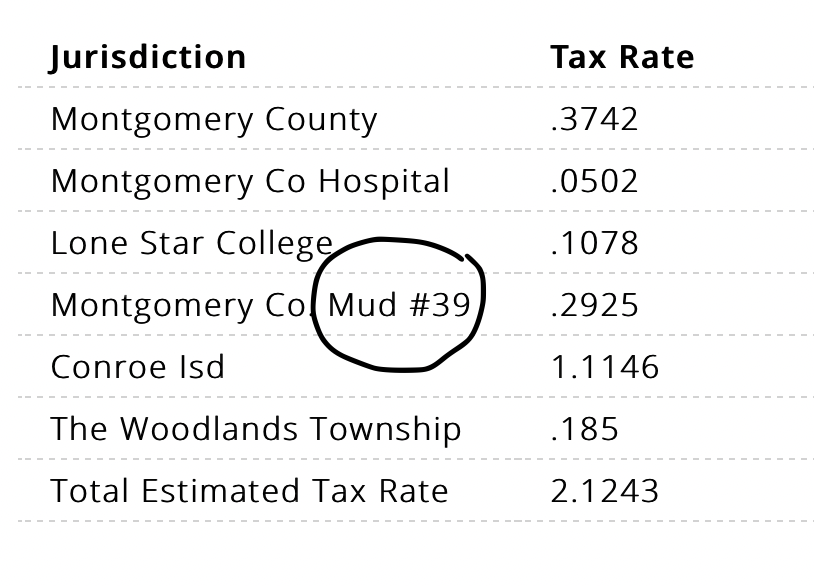 Delivery of the notice is accomplished upon execution of the notice by the buyer. Additionally, the seller must sign the notice too. Finally, as stated previously, a completed notice should be available on the district's website. Additionally, a district is required to file the notice with the county property records, and also have a copy available upon request to it and payment of a fee up to $10.00, i.e., two other ways to obtain the notice.
AT THIS TIME: Not all districts are complying but we feel confident that as the MUD districts learn of this new law, they will begin to get their notices uploaded to their websites. In the meantime, a phone call may be needed in certain cases to obtain the form.
THE TEXAS ASSOCIATION OF REALTORS RELEASED THIS LETTER in an attempt to educate Realtors and MUD Districts about the change. IF we come across a MUD District that does not want to comply with our request, we will forward them this letter.
CLICK HERE for additional information from the Texas Association of Realtors.
WHAT DOES THIS MEAN FOR SELLERS?
If you reside in a MUD District, it is crucial that you work with your Realtor to obtain this form. You will need to present this form to the buyer PRIOR to the execution of the contract or your buyer could have a means to terminate the contract all the way up until closing. We have found that some of the Notice To Purchaser documents are asking for it to be notorized. At this time, we do not see any legislation that requires that and the Texas Association of Realtors are working with MUD districts to educate them on this useless and inefficient requirement. Please be patient in the meantime.
WHAT IF WE CANNOT OBTAIN THE FORM DESPITE all efforts?
We would suggest you contact an attorney prior to executing a contract with a buyer or you run the risk of not following property code AND the buyer being able to terminate up until closing. We understand this may at times, require multiple calls from both Realtor and seller to obtain the form and we want to take note of all of our efforts to obtain it.
WHAT DOES THIS MEAN FOR BUYERS?
If you do not recieve this seller signed form prior to execution of the contract, you could use this as a reason to terminate up until closing. (consult an attorney if you have any legal questions). We will do our due diligence to obtain this form, however, we will not go above and beyond to "push" the listing agent and seller to provide it because if you needed to terminate up until closing....this could facilitate that. We WILL provide you the document that we can obtain online, it just may not be signed by the sellers UNLESS they provide it.
In conclusion, As you can imagine, this may be a consistantly changing issue as we wrap up 2023 but please know that The Home Sweet Home Group is going to make all efforts to remain educated and stay up to date on this issue. We will update this page as important changes happen. Thank you for your patience.