Kalahari Resort Summer Vacation
Posted by Rachel Merks on Thursday, August 4, 2022 at 10:30 AM
By Rachel Merks / August 4, 2022
Comment
Kalahari Resort - Round Rock, TX
When: July 24, 2022 – July 27, 2022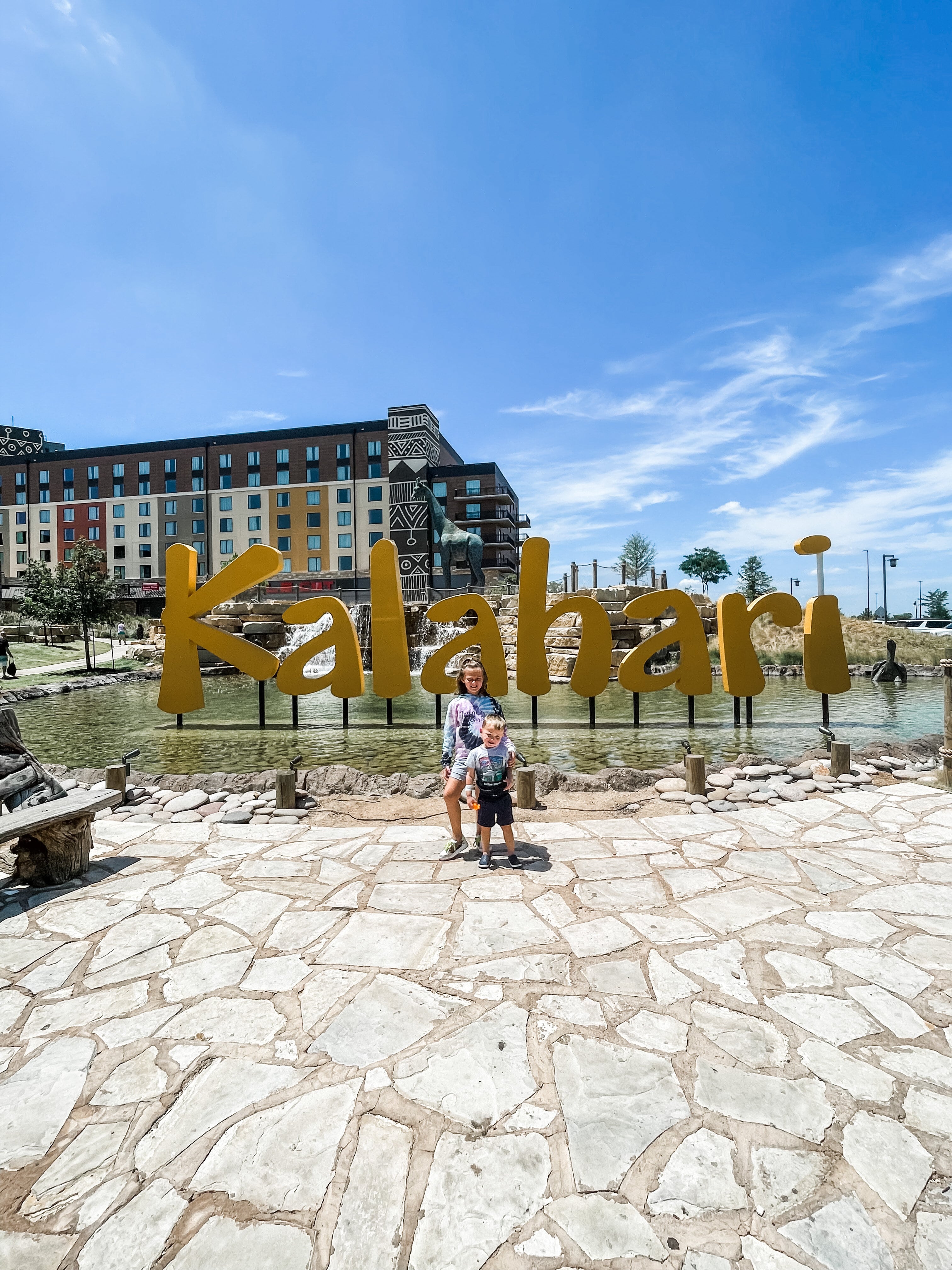 Who: Family of 4 – 2 adults and 2 children ages 6 (50 inches tall) and 2 (36 inches tall)
If you are looking for a one stop shop vacation for your family, look no further! Kalahari Resort in Round Rock, TX is the perfect destination with tons to do for all ages. Let's get into it and I'll give you all the information you need to maximize your trip.
Booking
We booked our trip in May of 2022. If you book 30+ days out, the pricing is better. We booked a standard Double Queen Room with a Sofa Bed for $320.99/night. I looked a few days prior to our arrival and the standard rate was over $600/night! Included with your stay is admission to the Indoor Waterpark and Outdoor Waterpark. The deposit for booking was 1 night stay plus tax and you may cancel with no penalty up to 30 days prior to your reservation.
Arrival
Standard check-in is 4PM. We chose to add-on to our reservation an early check-in of 2PM and late check out of 12PM (more about that later) for $199. We arrived at 2:45 PM and the valet parking was a little hectic. There wasn't a lot of clear direction and everyone working seemed to be young (between the ages of 16-21). After a few minutes we were able to pull up close enough that I could begin unloading the car and one kid while my husband and kid #2 waited for the valet service. Note: Valet parking is $40/night and there is a self parking option that's free. We knew we would be coming and going a few times so we felt the valet service was worth the money. Back to unloading, they do have carts available but they aren't your typical carts and they are small. We had actually packed fairly light for this trip: 2 suit cases, 1 fan and 1 bag cooler. We were able to get all this on the cart just barely. Kid 1 and I made our way into the lobby for check-in. Prior to our arrival, I had received an email with the option to pre-check online which I did. They sent me a QR Code to scan for check-in. Upon arriving in the lobby, there were kiosks for faster check-in which we took advantage of. We walked right up to the kiosk and scanned our QR code. I was asked to insert my card for incidentals. They printed our wristbands right out of that machine. The wristbands are another great feature. You use them to scan into your room (no key card needed), scan into the waterpark and scan for the rides if you choose to do a pass for those (more on that later). The other great feature was I was able to load money onto the wristbands and we could scan them to pay anywhere on property. If the money is not used completely at the end of the trip, it is refunded back to you. We found this very handy during our stay. Just about the time we finished up our check-in, husband and kid 2 were inside and we were on our way to our room! We got extremely lucky with our room being on the side of the hotel closest to the waterpark and our room was close to elevator, big score!
Room
We booked a standard room – 2 queen beds with a fold out sofa. The room was very spacious! There was a mini-fridge and coffee maker. The sink was in the room and not closed in the bathroom which proved to be helpful. There were great storage nooks for our things. My only storage complaint was there was only 1 drawer. I prefer a small dresser, I like to unpack in a hotel room and not live out of a suitcase. But we made it work. Our room over looked the indoor waterpark area and we could see some of the slides. That was exciting for the kids! Our room was also very clean and still felt new. Housekeeping comes every day but only to take out the trash and refresh the towels. They don't actually clean or make the beds which is another downfall to me. I know many hotels started this with Covid and some haven't gone back. I prefer a fresh bed every day but it's not a deal breaker.
Indoor Waterpark
WOW! The indoor waterpark was amazing! There was truly something for every age. When you first walk-in, it feels very humid. However, once you get closer to the water it doesn't feel that way at all. If you are staying at the resort, the waterpark overs towels. You scan your wristband and retrieve your towels. Before you leave the waterpark, you must return your towels. If not, they will charge you $20/towel. We found this process very simple and never had an issue. All throughout the park are chairs and tables where you can leave your things. There are also lockers throughout the park where you can lock your things up if you want. Another option are their cabana rentals. These range in price from $400/day up to $1600/day. We chose not to use this service with young kids as we have to keep our eye on them the entire time.
There are two areas that are designed specifically for very small children: Coral Cove and Tiko's Watering Hole. The water here is not over 2 ft deep, more shallow in most areas. There are slides, swings, and water play for young kids. Our 2 year old really enjoyed this area! All children under 48" must wear a life jacket at all times, even in the shallow play areas. Our child didn't seem to mind this at all.
Our favorite area was Safari Splashdown! This is a huge climbing structure with about 8 water slides. There are 2 slides that are specifically for kids and our two year old really enjoyed! He did them over and over again. The other slides are for all ages, even adults. The posted max weight on these slides is 200lbs.
Our 6 year old loved the bigger slides! There are 5 body slides, 4 mat slides, and 6 tube slides. 2 of the tube slides you can do single rider or double rider. The other 4 are minimum 2 riders up to 4. The max posted weight for a single person on these rides is 250lbs and total weight between all persons is 400lbs. There is also a lazy river that we rode many times!
There is a restaurant inside the water park. We did not utilize this service because in our opinion the prices were high. Because we were staying on property, it was easy for us to go back to our room for lunch and then come back to the park.
Let's talk adult areas: We did not get to utilize these areas because we were there with young children. There is an area called The Grotto that is for 21+ only. You have to show your ID to get in. There is a pool and swim-up bar in this area. There is also a bar in the main waterpark area.
Outdoor Waterpark
This area was probably the biggest let-down and we spent the least amount of time here. It's not really a water-park, just a resort pool area. There are 3 separate pools here. The first is very shallow, has swings and 3 slides, all geared towards small children. The second is a pool that has basketball goals where kids can play. The third is just a swimming pool with sun deck areas, what I would consider more of an adult area. There is a bar out door and some food carts. However, the entire outdoor area is in the direct sun with very minimal shade. It was beautiful out there but not practical with small children with the indoor park being there too.
Tom Foolery's Adventure Park
This was our biggest surprise! We knew this area existed, however we thought it was just a big game room. Turns out, there are not only games but also rides and a ropes course. Our kids loved this area! Now, this is not included in your stay and you do have to pay extra for games and rides. Our 6-year-old was able to get an unlimited ride pass and she could do any ride/ropes course she wanted for our entire stay. They do have rides that smaller kids can do however the minimum age is 3. Our 2-year-old was definitely tall enough to do the rides, but because he was only 2, we did not get a pass. There are some small rides there for little kids in the game room areas that you can use tickets for. He really enjoyed these! Back to the actual rides, there are 2 small roller coasters, a puppy car ride, spinning teacups, a whirly ride, and an orbiting thrill ride (that was closed). There is also the mentioned ropes course, rock climbing walls, cave of mirrors and laser tag. One day during the 2-year-old's nap time, I took the 6-year-old down and she spent an hour on the ropes course!
Restaurants
We made the decision before every arriving at the resort that we would not be eating on property. We had viewed the menus and pictures and decided that with 2 young kids it would make more sense for us to do breakfast and lunch in our rooms and dinner off-site. However, we did end up visiting two restaurants on property: Java Manjaro and B-Lux Grill and Bar. Java Manjaro was our coffee every morning. They serve Starbucks coffee and it was great! One night we decided to do dinner on site and chose B-Lux. We were so glad we did! The burgers were amazing! I got a burger, onion rings and a soda, my husband got a burger, fries and a soda, and we had 2 kid's meals. Our total was around $70, really no different than a decent burger place at home. There are tons of other restaurants on-site to choose from and the next time we visit we would definitely try them out.
Summary
All in all, we had the very best time! This is a vacation I would 100% take my family on again and we have already started discussions about our vacation next summer.
Total cost for a family of 4:
$1445 – Room/Taxes/Resort Fee/Early Check-In/Waterparks
$ 435 – Food/Groceries/Eating Out/Coffee
$ 155 – Games/Rides
Total - $2,035
Visit Kalahari Resort: https://www.kalahariresorts.com/texas/